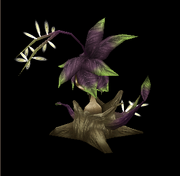 A leaf-like plant creature that has a spiky tip on its head and tail. 
Pain Leaf is a passive mob, meaning it will not attack unless provoked*.
*This is assuming you are of higher level than the Pain Leaf. If you are a lower level, or the same level, there is a chance of the Pain Leaf attacking.
Locations:
Edit
Isthmus of Kaus (Level 18 and 19)
Haotas Ravine (Level 44 and 46)
Flower Nectar
Iron Knuckle (Isthmus of Kaus)
Tree Root (Isthmus of Kaus)
Vine (Isthmus of Kaus)
Poison Essence (Haotas Ravine)
Stier (Haotas Ravine)
Young Branch (Haotas Ravine)