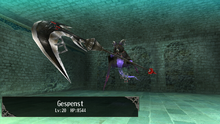 Gespenst
Edit
Gespenst is an extra boss and is not part of the storyline of Toram Online. It is the boss of the Underground Channel.After defeating Gespenst you will have a choice to go to the Debacky Channel.This Can lead to Rugio Ruins, Athema Ruin Town and Aluda Ancient Tower.
You can get the quest "Fear in the Underground Channel" from Forf near the bridge to Government office in the Sofia City. He will ask you to hunt 30 Ghosts and Gespenst. When you finished him, you get 1 bandana and 1280EXP.
It is a Level 20 boss and the recommended level to fight it is Level 16.
It has 8544HP and darkness element. It uses 3 types of attack:
Scythe stroke: beats you by scytch and make 23-28 phys. dmg.
Red arrow: fires a red blast in your side and make 23-28 mag. dmg.
Room of darkness: Gespenst generate a big amount of darkness energy and make 456-... mag. dmg. Its better for to be closer to Gespenst in such case.
Drop info:
Gear Drops: Old Cloak (Boss Version) [Def: 6, Crit Rate +5, Dodge +3]
Item Drops: Pale Gem, Scythe Blade, Remnant of Ghost, Thick Black Cloth, Ominous Horns, Remnant of Ghost.
Xtal: Mp+150, Attack-1%, Magic Attack-1%