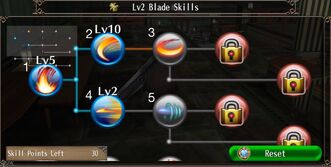 Skill Description
1. Hard Hit- (MP 100) Brutally hit the target with the weapon. You have a chance to make the target Flinch.
2. Astute- (MP 200) Strongly hit the target in rapid motion. Critical Rate +25% when this skill is activated.
3. Trigger Slash- (MP 400) Put power while slashing the target. Enhance Attack MP Heal until the next skill. The motion speeds up one time by this skill.
4. Sonic Blade- (MP 200) Thrust enemies quickly moving toward them. Range and Critical Rate increase as the skill levels up.
5. Spiral Air- (MP 300) Sharply thrust the target causing wind slashes. Continue dealing damage after using the skill.
6. Sword Mastery- Get better at swordsmanship. ATK of One/Two-Handed Swords increases.
7. Quick Slash- Shorten the Attack Intervals of One/Two-Handed Swords.
8. Sword Techniques- Learn the mastership of swords. The damage dealt of Sword Skills increases.